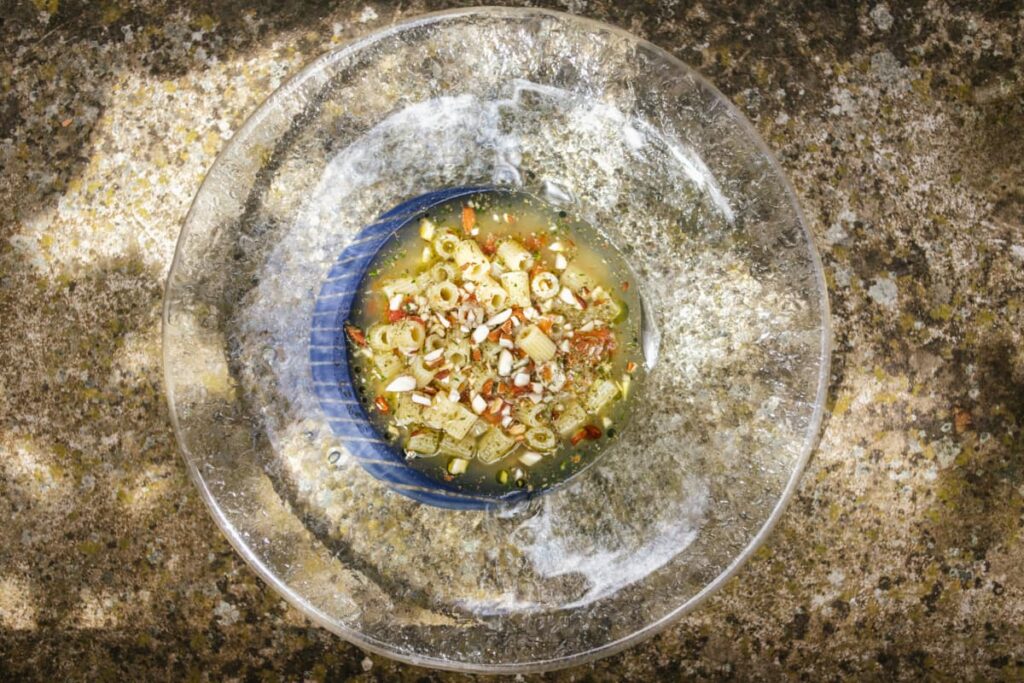 This recipe was born from the desire to bring on the table the traditions of Salina and even more the daily life on the island of the young chef Martina Caruso.
The fish broth is part of the island traditional dishes and, due to the use of "poor" fish for the soup, it is often considered of little value although it is a very succulent dish.
The type of fish used can also be caught from the shore with amateur fishing techniques as Martina does for hobby.
In her spare time, in fact, the young chef loves to spend the winter days fishing with her husband and, returning home, she often prepares fish broth to share in a pleasant dinner with her family or friends.
The fish broth thus becomes a ritual, a beautiful moment of sharing and conviviality.
What Martina loves about this dish is the possibility of using all the ingredients without any waste. In fact, every part of the fish is used in the preparation and the rest of the ingredients are easily available even from a small home garden.
Recipe for 2 people:
Ingredients:
FOR THE MINCE
half onion
1 celery stick
2 garlic cloves
1 chili
30 gr of basil
a little bit of oil
FOR THE BROTH
200 gr white fish fillet
20 gr peeled tomatoes
30 gr toasted almonds
5 gr mix of dried herbs (basil, rosemary, bay leaf, parsley, marjoram, thyme and chives)
fish broth q.s.
salt, pepper, oil to q.s.
PASTA
140 gr Pasta – "tubetto" type
Preparation
In a mortar, chop the onion, celery, garlic, chili and basil with a drizzle of oil.
Meanwhile, heat the oil in a large-bottomed pan and add the previously obtained mixture. Brown adding the peeled tomatoes and white fish.
Simmer with white wine until it reduced.
Add the previously obtained fish broth and cook over medium heat for about 8 minutes.
Boil the pasta in abundant salted water and drain halfway through cooking, adding it to the broth. Quickly pan fry everything over medium heat to finish cooking the pasta.
Cut with a knife the toasted almonds and garnish the dish also with the mix of dried herbs made with basil, rosemary, bay leaf, parsley, thyme and chives.
Martina Caruso